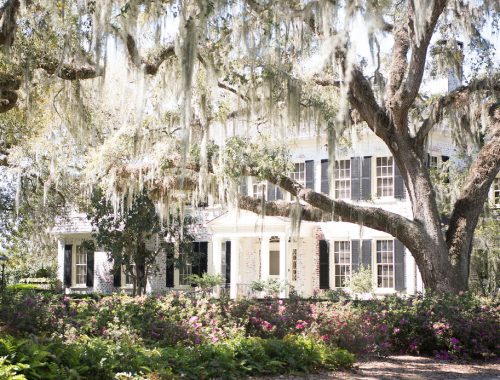 Our Mini Guide to Brays Island
An Insider's View Of Brays Island Plantation
Recently, Kelli and I were fortunate enough to be invited to spend a few days at Brays Island. For those of you that are unfamiliar with this secluded jewel of the lowcountry, it is a private island off the coast of South Carolina, between Savannah and Charleston. It's only a two hour drive from Saint Simons. The island is only accessible to residential owners and their guests, so to be extended an invitation was a real treat. Every aspect of Brays Island is magical. If you are ever given the opportunity to visit, don't pass it up! So, today I'm sharing our insider view in the hopes that you are just as inspired to enjoy more outdoor activities this summer!
Brays Island Inn
We loved EVERYTHING about the Inn, which is a restored plantation home right on the water. Even the entrance exudes southern charm, as beautiful hundred year old oak trees, draped in Spanish moss, line the driveway.  I fell in love with the exterior of the home — the white-washed brick, fig ivy that covers the walls, wrought iron gates, and a beautiful back porch overlooking the marshlands. The Inn serves breakfast daily in their vibrant yet relaxing solarium — which is the perfect way to start the day. Their french toast with fresh fruit is my top recommendation.  Another favorite and original service at the Inn is the honor bar, which adds to the old-world charm of the island. You pay for what you consume, jot it down and square away your bill at check out. So quaint!
Outdoor Pursuits
The island is known for its unique sporting activities. While on property, you can go hunting for either quail, deer or turkey (and so many other birds). Another option, which I was thrilled to take advantage of, was their horseback riding, which features over 60 miles of trails.  Wow, this might have been one of my favorite activities! As you know, I love animals, so being able to interact with the horses was so fun. Nicole, our guide and the Equestrian Director, was extremely knowledgeable about the horses and grounds. She added so much to our ride and made us feel very relaxed. And yes, it was very hard for me to part with the horse when it was time to go! In addition, they also offer skeet and trap shooting, which was very enjoyable. Our instructor was very hands on and by the end of our session I was hitting more targets than I thought possible! It is fair to say there is something for everyone to do! Given that the island sits in the middle of the lowcountry, boating and fishing are some of the most popular activities they offer. During a cruise, you can take in the gorgeous marsh view, spot some dolphins, and maybe even catch a glimpse of a South Carolina mink! This is one of the best ways to get a better perspective, and the boat captains also love to share the rich history of the island!
Dining
The food at Brays Island is both fresh and flavorful. For dinner, we really enjoyed dining at the Brays Island Plantation Grill. They feature great steaks and wines that pair perfectly with your meal. For lunch, you can enjoy their Butcher block sandwiches, with fresh toppings that include avocado, tomato, spinach and other tasty options. Yum!
One of the highlights of our trip was when one of the residential owners invited Kelli and I to her home for grapefruit margaritas. Opening her home to us was so gracious, and we were thrilled to catch a glimpse of what life is really like on Brays Island. We loved hearing her stories of island life, almost as much as we enjoyed her backyard view, which opens up to the horse stables. During the lovely sunset, we even got to feed the horses!
All in all, the best way I can describe our time there is simply magical. Everyone who works there, as well as the residents, are all welcoming and friendly. I came back so appreciative of my time there and eager to share my experience with all of you. It was truly a re-energizing and inspiring trip!
Kelli Boyd Photography exclusively for Lavin Label